REEMAN
Panda
Great success in food delivery
Automatic Elevator/
Door Control (Optional)
Intelligent Obstacle
Avoidance
Intelligent Scheduling
System


Intelligent Obstacle Avoidance, More Flexible
Free Passage For Delivery
Reeman Large Screen Food Delivery
Provides Users With An Unprecedented
Food Delivery Robot Experience.

Industry-Exclusive Autonomous Scheduling System
Reeman's exclusive autonomous scheduling system system supports multi-point delivery tasks, multi-robot cooperation,
Efficient and flexible, automatic optimal path planning, and orderly delivery of meals to designated locations.
Convenient And Efficient
Delivery Robot
The screen will show the pickup meal when the robot arrives at the tables.
Intelligent Voice Broadcast
In humanized pick-up mode, Panda automatically announces voice prompts to pick up food after arriving at the delivery location.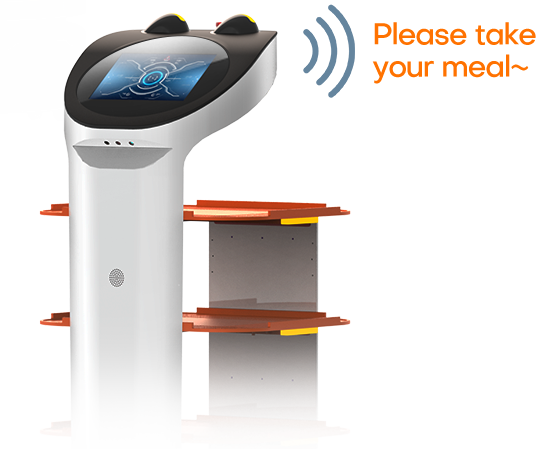 15.6" Advertising Screen
Rear 15.6-inch high-definition advertising screen, which can play pictures and videos, customize the setting of background music and voice announcement content to create your exclusive unique restaurant.
New Direction Of The Restaurant
Helpful Marketing "Tools" For
Your Energetic Restaurant.

New Breakthrough of Delivery Robot
Built-in shock-absorbing suspension system to ensure smooth operation of the robot, 3 3D cameras with a 270 ° detection angle, more flexible obstacle avoidance, anti-drop, body advertising screen marketing, LFP safety battery are breakthroughs in food delivery robots.
15.6"
Large advertising screen
10KG
Single tray loadd 10KG
25M
25-meter lidar detection range
Food Delivery Mode
5 delivery modes to choose
270° Intelligent Obstacle Avoidance
SLAM+3D camera multi-sensor fusion algorithm, navigation and positioning accuracy, lidar
detection range up to 25 meters, display real-time dynamic information
around, obstacle avoidance function more flexible.
270°
Laser Detection Range
Easy Deployment
Unlike traditional delivery robots, Deligo requires no code and is easy to deploy, fast, and more efficient.
Automatic Return To Charge
Unlike the Flying Fish charging method of PUDU delivery robots-Bella and Keenon delivery robots, each robot is equipped with an independent charging pile. A fixed charging position is possible. Automatic return to recharge when the power is lower. No manual operation is required.
High-Tech Food Delivery!
Time-Saving And Efficient
Cloud Platform Remote Navigation Deployment
Control the robot remotely and report real-time running conditions, helping customers achieve navigation map construction.
Efficient And Convenient Food Delivery Service,
Suitable For All Kinds Of Scenes
Panda's Detailed Parameters
*All data are provided by REEMAN Laboratory, and the final interpretation right belongs to REEMAN
Android 5.1
Operation System
500*500*1460mm
Product Size(W x D x H)
15.6"
Rear Advertising Screen
500*408 mm
(total 4 layers)
Tray Size(L x W)
3-4 Hours
(Automatic Return to Charge)
Charging Time
Voice Prompts
Voice Prompts
Lithium Iron Phosphate 25.6V/25Ah
Task Configuration
Customizable Task Setting
Self Define Task Settings
About 15 Hours
Battery Life
Motion Parameter
40 Meter Laser Navigation
Autonomous Obstacle Avoidance;Climbing Angle:5°
Swinging Radius:0