REEMAN
Flash
Food delivery robot

Automatic Return
To Charge
Intelligent
Obstacle Avoidance
Intelligent
Scheduling System


Can Pass 55cm
Narrow Aisle
Newly Upgrade Free Food Delivery
Can Move Freely At Narrow Aisle
Industry-Exclusive Autonomous Scheduling System
Reeman's exclusive autonomous scheduling system system supports multi-point delivery tasks, multi-robot cooperation, Efficient and flexible, automatic optimal path planning, and orderly delivery of meals to designated locations.
Delivery Mode
①Automatically announces the pick-up tray layer by voice after arriving at the delivery location

②Automatically return to the meal delivery point after the meal is picked up
One-Touch
Calling
One-touch call module support to
summon the robotarrives at the calling table.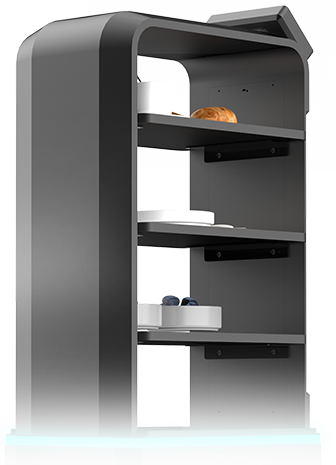 Automatic Elevator/
Door Contro
①For delivery tasks on different floors, we can match the elevator control module to carry out delivery tasks across floors

②For different rooms on the same floor, we can match the access control module to open/close the door automatically.
Thin Into A Lightning Bolt
Come And Go Freely
New Breakthrough of Delivery Robot
It can pass through a narrow road of 55 cm, no QR code is required, simple deployment, excellent light effect on the body, superb technology, LFP safety battery, these are all breakthroughs in food delivery robots.
55CM
Free passage of vertical narrow road
25M
25-meter lidar detection range
Customize
Customize task settings
230°

Intelligent Obstacle Avoidance

SLAM+3D camera multi-sensor fusion algorithm, navigation and positioning accuracy, lidar detection range up to 25 meters, display real-time dynamic information around, obstacle avoidance function more flexible.
25 meters
Laser Detection Range
Easy Deployment
Unlike traditional delivery robots, Flash requires no code and is easy to deploy, fast, and more efficient.
Automatic Return To Charging
Each of our robots is equipped with an independent charging pile, which can fix the charging position. When the power of the robot is lower than the minimum value, it will automatically return to the charging pile to charge without manual operation
High-Tech Food Delivery!
Time-Saving And Efficient
Cloud Platform Remote Navigation Deployment
Control the robot remotely and report real-time running conditions, helping customers achieve navigation map construction.
Efficient And Convenient Food Delivery Service,
Suitable For All Kinds Of Scenes
Flash's Detailed Parameters
*All data are provided by REEMAN Laboratory, and the final interpretation right belongs to REEMAN
Android 5.1
operation System
540*360*1216 mm
Product Size(W x D x H)
7"
(Resolution 1024*600)
Operation Screen
335mmX465mm
(4 Floors in Total)
Tray Size(L x W)
20KG/layer, total 80KG
Load capacity
3-4 Hours
(Automatic Return to Charge)
Charging Time
Customizable Voice
Voice Prompts
Lithium Iron Phosphate 25AH-8S1P 640WH 25.6V
Battery Parameter
Customizable Task Setting
Task Configuration
About 11 Hours
Battery Life
Motion Parameter
25m laser navigation, autonomous obstacle avoidance;
Climbing: 5°;
Rotation radius: 0, swing radius: 254mm;