REEMAN
Disinfection
Your Neighborhood Disinfection Expert
Fogging disinfection robot, robot as a carrier, through rapid atomization disinfectant, effectively inhibit the bacteria and viruses attached to the surface of the object, blocking the transmission path of bacteria and viruses, 360 ° full coverage disinfection sterilization, to achieve human-machine separation, reduce personnel contact, improve the safety of use. And simple deployment, based on maintenance management. Can be widely used in hospitals, airports, office buildings, shopping malls, schools, factories and other public places.

Remote Navigation Deployment

Timed Zoning Disinfection



Autonomous Route Planning
Remote Intelligent Monitoring
3D Intelligent Obstacle Avoidance
Automatic Return Charging
Human-Robot Separation
educe The Risk Of Cross-Infection
360° Disinfection Let Bacteria And
viruses have nowhere to hide
Let bacteria and viruses have nowhere to hide
Support booking disinfection tasks, including setting disinfection routes
Autonomous Planning Route
According to the actual disinfection scenario needs, customize and add disinfection points, the robot automatically plans the disinfection route and returns to charging automatically after the disinfection task is completed.
Remote Map Building
Break the limitations of time, space, experience and equipment to shorten the deployment time of navigation maps building,  and allow robots to complete the map building task in the shortest time.
Real-Time Monitoring, Easy Management
Independent robot management account, remote monitoring of robot operation status, real-time data display, for example, the robot's emergency stop switch, laser, power, positioning and other parts of the robot can be viewed in real-time status, convenient for daily maintenance and management of the robot.
After the robot is connected to the local network, remote intelligent control of the robot is achieved by logging into the Web backend and entering the body number of the disinfection robot.
Remote Intelligent Control
Front 3D Camera
Laser SLAM navigation and positioning, front 3D camera, intelligent obstacle avoidance, can accurately detect steps and ground with drop-offs to prevent the robot from falling and meet various disinfection tasks in complex indoor environments.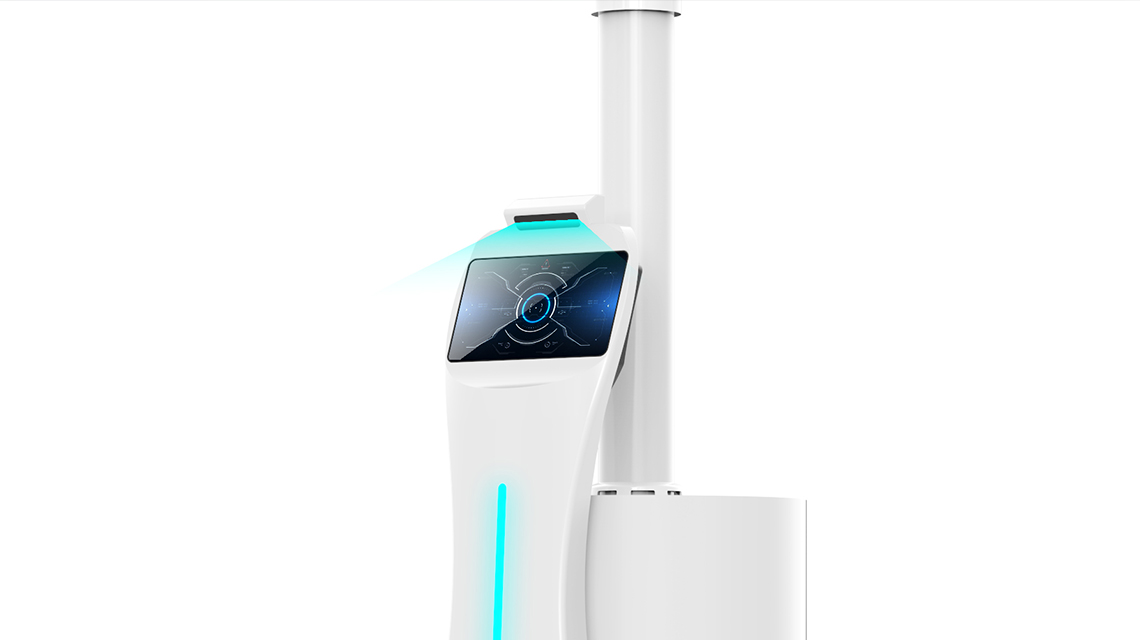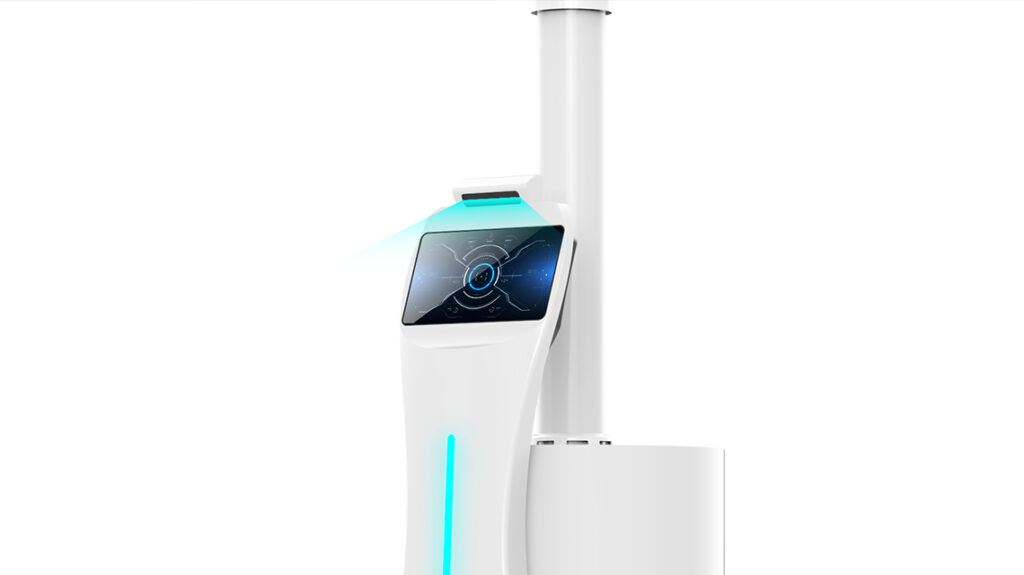 Support booking disinfection tasks, including setting disinfection routes
REEMAN Disinfection Robot
Three Levels Of Fog
volume Adjustment
The robot is equipped with a fog volume adjustment panel.
Three levels of fog volume can be freely adjusted
(1200mL/h, 2000mL/h, 3000mL/h), and the size of fog volume
can be freely adjusted according to the actual environmental needs.
OEM Available
Support customized product requirements
Autonomous Elevator Ride (Optional)
Efficient Work
Disinfects up to 1000m³ of space in 15 minutes
Reduces manual contact and avoids risk of personnel infection.
Automatic Recharge
When the power of the robot is lower than 20% (can be set), it will automatically return to charging without manual operation.
Applicable To Various Places Disinfection
Subway stations, high-speed railway stations, airports, customs ports, hospitals, banks, government halls, schools, libraries, nursing homes, orphanages, factories, auto 4S stores, superstores, logistics and storage, restaurants, shopping malls
Subway Stations, High-Speed Rail Stations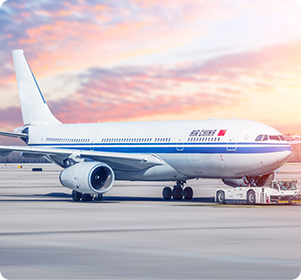 Nursing Homes, Orphanages
Restaurants, Shopping Malls
Detailed Parameters Of The Disinfection Defender
All data are provided by Reman Laboratory, and the final interpretation right belongs to Reman
Type Of Disinfection Solution
Hypochlorous Acid, Sodium Hypochlorite, Hydrogen Peroxide, Peroxyacetic Acid
Support
Remote Intelligent Control
2~5μm
Atomization Particle Size
7-Inch,IPS Screen (16:9)
Display Screen
1200/2000/3000mL/h
Fog Volume: Three Degree Adjustments
Disinfection method
Single Disinfection, Circulation Disinfection
450×450×1560
Product Size (L×W×H mm)